St. Mark Preschool and Kid's Crossing
Phone: (563) 326-5060
Programs and Activities
St. Mark Preschool has been a beacon of light and learning in the west end of Davenport since 1978. It is an integral part of the Faith Formation Ministry of St. Mark Lutheran Church.
The staff at St. Mark Preschool is committed to providing a loving, nurturing and creative environment for children.  We offer a physical environment that is safe, clean, and child friendly. We are sensitive to the social, emotional, physical, and faith development needs of children.  Our goal at St. Mark Preschool is to lay the foundation for a lifetime of learning and success. We welcome students of any race, color and national or ethnic origin.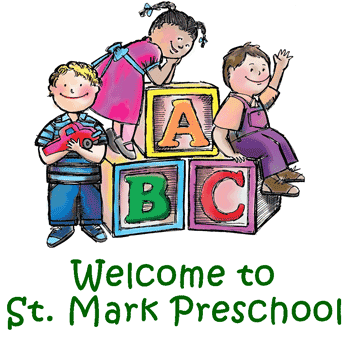 CLASS SESSIONS
Preschool hours:  9:00am-1:30pm
AGES  3-4
Monday-Friday
Tuesday-Thursday
Monday-Wednesday-Friday
AGES 4-5
Monday-Wednesday-Friday
Mon-Tues-Wed-Thurs-Fri
TUITION RATES
2-day: $200/month
3-day: $250/month
5-day: $350/month
There is an annual registration fee of $50.
25% discount for siblings
Tuition rates are subject to change after the 1st of the year, 2018.
Please contact the preschool for enrollment availability. We welcome you to come for a tour.
CURRICULUM
Curriculum is based on the Creative Curriculum Approach and the Pre-K Program "Handwriting Without Tears". 
Weekly Chapel Time includes Bible stories and songs.
Our program addresses the following Early Learning Standards:
Physical Well-Being and Motor Development
Approaches to Learning
Social and Emotional Development
Communication, Language, and Literacy
Mathematics and Science
Art and Music
Technology
St Mark's KIDS CROSSING DAY CARE
KIDS CROSSING BEFORE AND AFTER SCHOOL CHILD CARE
Before School (7:00-8:50) $4/day
After School (1:30-5:30) $8/day

KIDS CROSSING SUMMER ENRICHMENT
Ages 3 through 10
Hours: Monday through Friday, 9:00am-1:30pm, June through August,
$10 registration fee, $15 per day with optional child care available before and after the core day.
Activities include special theme days and field trips
Preschool Ministry
All our teachers meet and exceed state of Iowa requirements. Staff development is ongoing and all are certified in First Aid and CPR.
Rebecca Dankert – Preschool Director
Amy Follis – Preschool Treasurer
Shelly Stock – Teacher
Julie Connelly – Teacher
Jada Isham – Teacher
Desiree Gillespie – Teacher
Kati Boyd – Teacher
Laura Gladfelter – Cook

Preschool Board
St. Mark Preschool is overseen by a 7 member governing board made up of St. Mark Members and Preschool Parents.
St. Mark Preschool
Phone:  (563) 326-5060
rdankertstmarkpreschool@gmail.com