St. Mark Evangelical Lutheran Church
Our mission is: St. Mark Cares: welcome, worship, witness
St. Mark cares.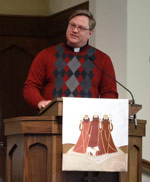 We care about the people in our community. Every month, in our food pantry, we provide essential food to 400 to 700 people who are struggling to make ends meet.
We visit the homebound, the elderly in nursing homes, and the sick in hospitals. We work with others to help the homeless.
Our women's groups collect supplies for missions and knit, crochet, and pray for others.
We care about children. We daily watch over more than 40 children in our Christian-based, licensed preschool. We host Cub Scout and Junior Girl Scout activities. Our B.I.G. (Believe In God) Youth Group runs community service projects and a summer work camp.
We care about teaching the faith. In addition to Sunday services, we hold Bible classes, confirmation classes, Sunday school for all ages, and Vacation Bible School.
Most of all, we care about you. If you are hurting, grieving, or ill, if you have lost a job, a relationship, or a marriage, if you are lonely, depressed, or discouraged, or if you simply are searching for more meaning in your life, you will find comfort and love here at St. Mark.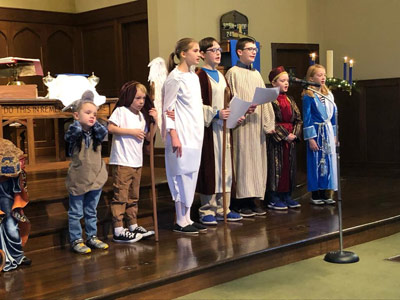 St. Mark cares. We care about our community; about the elderly, ill, and homeless; about children; about teaching the faith; and we care about you.
Take one step into St. Mark and you'll see, hear, and feel the beauty and love of God. St. Mark was built in the 1920s, but it's still vibrant and recreating itself. Recently, the church added a large, 7x9-foot stained glass mosaic and recorded its first CD of hymns. Only 10 years ago, it remodeled the sanctuary and installed a grand, new pipe organ.
Come worship with us. Come experience the love of God. Come add your gifts to the beauty of this place and the reach of its ministries. Come see just how much …
St. Mark cares. 
Caring and Journeying with you in Christ,
Pr. Travis M. Fisher-King


St Mark Evangelical Lutheran Church is a congregation of
The Evangelical Lutheran Church in America. ELCA
in the Southeastern Iowa Synod (hotlink: seiasynod.org)
Read about upcoming projects and events at St. Mark in the
Current LIFE Newsletter
Did you miss Last Month's Life?