St. Mark Evangelical Lutheran Church
Our mission is: St. Mark Cares: welcome, worship, witness
Welcome
This is the church of Jesus Christ and there is a place for you here. We are a church that believes in the grace of God – grace saves us and frees us to live the abundant life that God intends for us.
We welcome and embrace you as a whole person. Each of us comes with questions, doubts, and histories. At St. Mark we support and encourage each other because we believe God created us and loves us just as we are, with all our imperfections.
The St. Mark Community is an inclusive church and all are welcome here. Come and see.
Click on the welcome tab above for more information about St. Mark.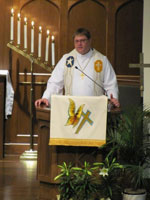 Worship
As a community of faith, our worship life is central to who we are as Christians. Each week we offer a variety of worship services using a Lutheran liturgy. We come together to worship God regularly and faithfully for two reasons: first because we believe it pleases God, and secondly, because worship keeps us grounded in our relationship with the Triune God: Father, Son and Holy Spirit.
In worship we pray, we sing, we read from the Holy Scriptures, we hear a message of instruction and grace and we are fed the bread of life at the Lord's table. Come and join us in worship.
Click on the worship tab above for more information about St Mark worship services and music ministries.
Witness
As a people of faith, we are called to witness to the love of Jesus throughout our lives. The ministries at St. Mark beyond worship focus on caring and outreach. We believe that Jesus calls us all to witness His love and care in the world through our words and deeds.
Come and join us as we do God's work in Christ's name for the sake of the world.
Click on the witness tab above for more information about St Mark witness ministries.

St Mark Evangelical Lutheran Church is a congregation of
The Evangelical Lutheran Church in America. ELCA
in the Southeastern Iowa Synod (hotlink: seiasynod.org)
Read about upcoming projects and events at St. Mark in the
Current LIFE Newsletter
Did you miss Last Month's Life?